Veterinary Marketing Ideas: 5 Practical Solutions
Google My Business is a free online tool that is easy to use. It works across the Google, Google Search, and Google Maps platforms and is where your business, contact info, and Google reviews are listed. Every day, clients are going online to search for veterinary services so it is essential that this information is readily available!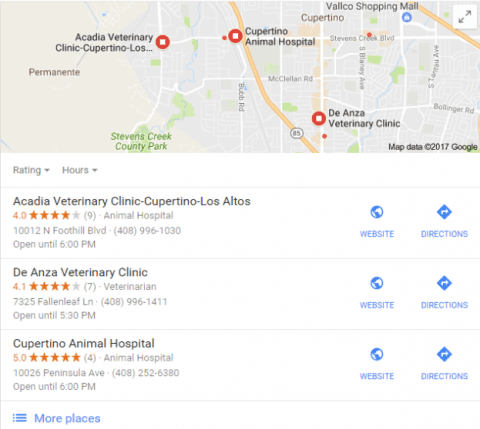 While being on Google Maps is essential, only the top three businesses in your area will show up in the Google My Business section of a search query. Those are the veterinary practices that are getting dozens of phone calls each day! You have a chance to be in the top three if your information is correct and your business is listed in the correct category (animal hospital, veterinarian, emergency veterinarian, etc.), and you have a good number of online reviews.

If you aren't sure how to optimize your Google My Business listing for your Veterinary Practice, or need additional help, get in contact with someone who does. It will be worth it!
Set Up Your Website for Veterinary Marketing
It's important not to cut corners when creating your practice's website. While there are many template-style options available that take little time to set up, you are doing a disservice to your business by using them, as they interfere with Google integration and hinder good marketing participation. If you choose a custom website, it will more easily show up when potential clients are searching for your services.
A good website gives you the opportunity to attract new clients from surrounding cities, not just locally. But you need to convince them that you are worth the travel! One way to do this is by including reviews that show you are a trusted business. You should also include photos of your facility and staff.. Be sure to mention all of the services you offer (usually on a "services" page on your website) so that clients know you cover what they need.
A website is a chance to tell your story! Take the time to make it your own. It is, after all, your first opportunity to make a good first impression!
Distribute Your Content  - Veterinary Marketing Ideas
Once you have written your content, it is time to send it out into the world. Not only will it help increase your website's SEO (Search Engine Optimization) and organic ranking, but the information you provide will show clients that you are a leader in your industry with knowledge to share.
But you don't want to just add a blog post to your website and forget about it! By delivering the same content multiple times, you can increase the impact it has on your online presence. In addition to posting it on your website, share the content on your social media channels (Facebook, Twitter, etc.), and email it to clients. Make sure that every time you distribute it, you link back to your website!
You can also stayed organized by creating a schedule of when you plan to post and share content.
Ask for Reviews -  Veterinary Marketing Ideas
Don't be shy! Reviews are a necessary component to having a successful business. Not only do they affect how people online perceive your practice and how trustworthy you are, but it affects your Google My Business ranking, too. The more reviews, the better!
However, not everyone writes reviews. In fact, dissatisfied clients are more likely to go out of their way to write an online review than satisfied ones! By making a direct plea to clients, you can make a huge difference in how many positive reviews your business collects.
One way to accomplish this is to send clients a form email after their visit with a link to your Yelp or Google Business page and ask for their feedback. It is important to phrase it generally, such as "we'd love to hear about your experience with us." You cannot ask specifically for only positive reviews (but most of what you receive will be)! Sending an email is also an opportunity to thank your clients for their patronage and make sure they have all of your correct contact information should they have any questions. It's a win-win!
Want More Free Ideas?
We hope these five practical solutions will help your veterinary practice grow quickly. If you are interested in receiving additional support to create your business's online presence visit our website at www.vetmarketingpro.com to download our free case study and Learn How A Veterinary Practice Increased Their Online Leads By 340% In..30 Days!
Related Posts