Vet Marketing Pro Is Going to PNWVC 2019!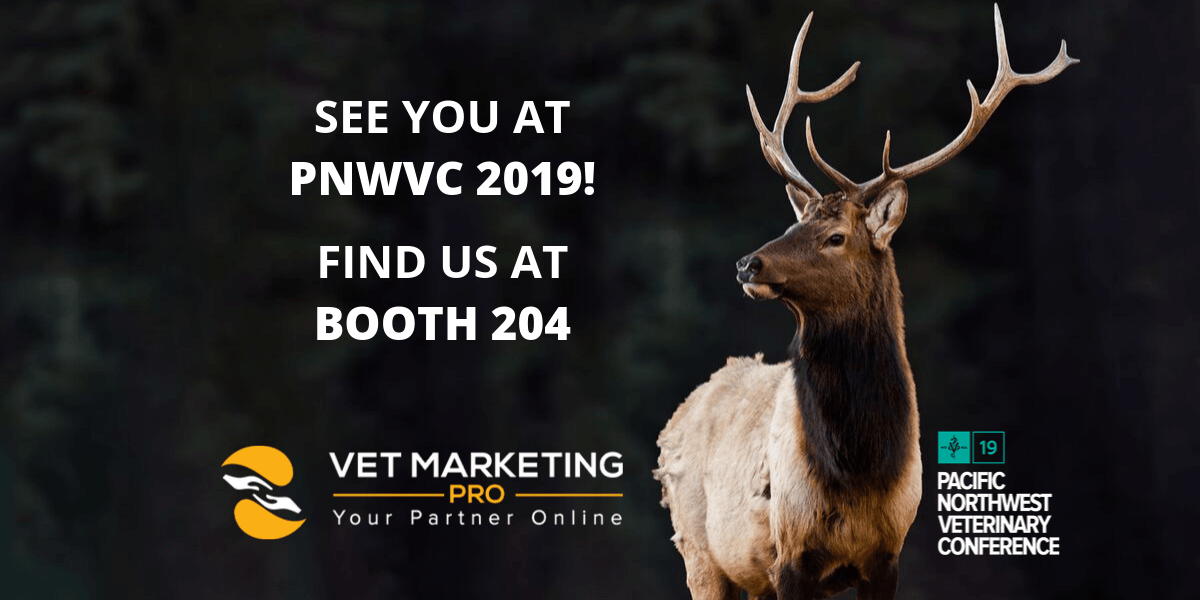 Are you headed to the Pacific Northwest Veterinary Conference too? Come on by Booth 204 to say hello — we're conveniently right by the coffee! We love chatting with veterinarians about the amazing benefits our services can provide, both in their bottom line and in offering support and peace of mind. We take our commitment to our partnerships with practices seriously. Drop by for a few to learn about what we offer and why we recommend our services to veterinary practices. You get some awesome conference swag and $150 in free Google Ads spend, too!
Veterinary Websites
These babies are our pride and joy! From the very beginning, we put more into your practice's new website than any of our competitors. From all-original written content to an entirely unique design that you get full input on, we really kick it up a notch. We build websites that look beautiful, are easy to navigate and — best of all — perform incredibly well on search engines like Google. Check out some examples of our high-performing websites here.
Local Search Engine Optimization
There are a multitude of things that go into how well your practice shows up in search engines. We mentioned your main website above, but how can you keep gaining ground by filling in the gaps over time in terms of where you show up online and what for? Struggling to rank well for your vaccine clinic in a city near you? We can help. We don't just sit around and hope that your slowly crawl up the rankings, we go to work hard for your practice with methods that we know work.
Google & Facebook Advertising
One of our business practices that we're most proud of is the support we provide to our clients without nickel-and-diming them. That's why we build and manage Facebook and Google Ads for your veterinary practice free with any package. We simply consider it part of our relationship!
Reputation Management
Managing an online reputation can feel like playing they most frustrating game of whack-a-mole at an arcade straight out of your nightmares. It's not just about trying to navigate the maze or reporting the false review of a pet owner who thought you were a different clinic 3,000 miles away, either. There's a process for getting your actual clients to remember to leave those lovely little 5-star reviews, too.
Automated Marketing
Automated marketing can be an excellent way to get your current clients into your clinic for everything from dental cleanings to vaccinations. We help you come up with offers and get them sent out to pet owners.
As always, we pride ourselves on our customer service here at Vet Marketing Pro. If you choose to partner with us after chatting at PNWVC, that won't be the last time you talk to a real person! You get the full support of our entire team — including emailing, calling and even texting when you need absolutely anything.

By accepting you will be accessing a service provided by a third-party external to https://vetmarketingpro.com/